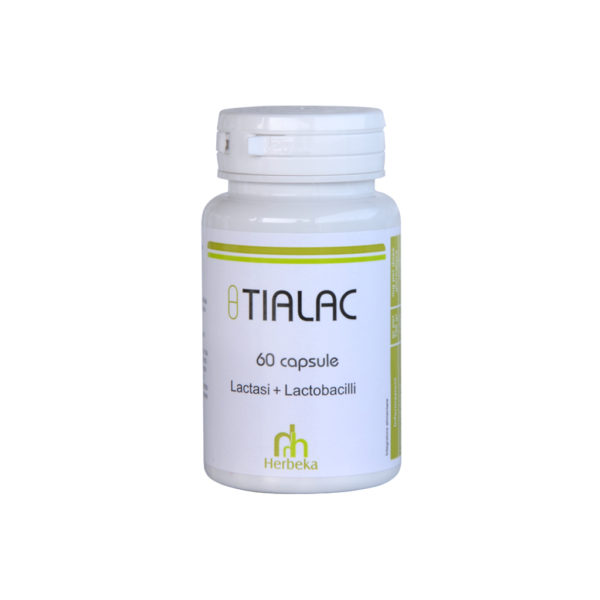 Tialac®
It favours the digestion of lactose and re-balances intestinal flora.
Tipologia:

Food supplement

Formulazione:

60 capsules
Descrizione prodotto

Tialac is a food supplement indicated for those who are lactose intolerant due to primary and secondary Lactase deficiency.
Composition and indications
Lactase helps digesting foods containing lactose.
Lactobacillus Reuteri, Lactobacillus Sporogens and Lactobacillus Subtilis help re-balancing intestinal flora.
Method of use
1 tablet twice a day, 15 minutes before the main meals for 4-6 months.
In particular cases and upon doctor's recommendation, the dose can be increased up to 4 tablets a day.
Warnings
The product is not suitable for people who are intolerant to any of the ingredients. Keep away from the reach of children under 3 years of age. Food supplements do not substitute a mixed diet.
Storage method
Store in a cool and dry place, away from heat sources.
---
Lactose intolerance
Inability to digest lactose sugar (present in all dairy products) due to a deficiency of digestive enzyme lactase produced by the cells of the small intestine mucosa. Lactase in fact splits lactose into glucose and galactose (simple sugars) which are absorbed by the wall of the small intestine. When lactase is deficient, the molecules cannot be split therefore the lactose that remains inside the intestine draws fluids, thus causing diarrhoea. Moreover, the lactose not absorbed, transits through the colon where it causes flatulence, fermented by the bacteria.
Symptoms: intestinal meteorism, cramps, diarrhoea, flatulence and nausea.
Curiosity


Did you know that lactose-intolerant people must avoid all products whose label states: milk, lactalbumin, whey, milk by-products, lactose and powder milk.