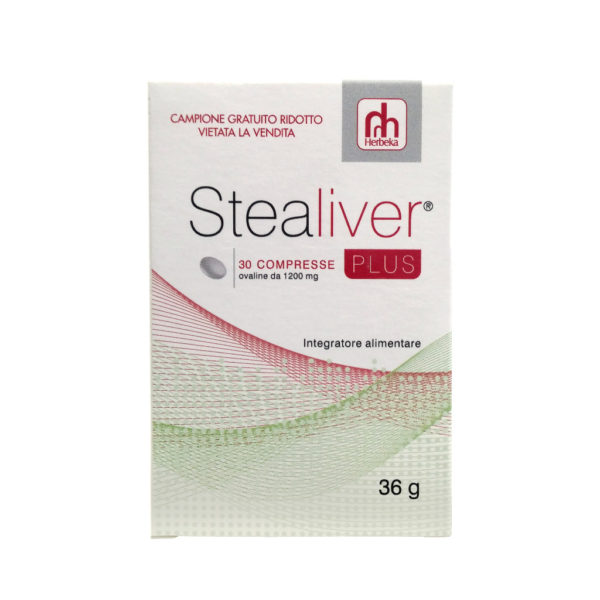 Stealiver® plus
Adjuvant in restoring normal liver functions
Tipologia:

Food supplement

Formulazione:

30 tablets
Descrizione prodotto

Stealiver is a food supplement that was born from the need to help the liver eliminating excess fat and protect it against free radicals.
Composition and indications
Milk thistle boosts the metabolic activity of the liver cells.
Carnitine links fatty acids, allowing their introduction inside mitochondria that transform them into energy.
Alpha-lipoic acid prevents oxidation of fluids and destruction of cell membranes.
Desmodium regulates the rate of transaminaes and GGT (gamma-glutamyl transferase), it protects and regenerates liver cells.
Method of use
1 tablet twice a day, after the main meals.
Warnings
The product is not suitable for people who are intolerant to any of the ingredients. Keep away from the reach of children under 3 years of age. Food supplements do not substitute a mixed diet. Do not exceed the suggested daily dose.
Storage method
Store in a cool and dry place, away from heat sources.
---
Steatosis
It is the excessive accumulation of triglycerides inside liver cells. Some possible causes are diabetes, obesity, alcoholism, intake of certain drugs or high levels of triglycerides.
Symptoms: hepatic steatosis is generally asymptomatic.
Curiosity


Did you know that alcohol consumption can cause hepatic steatosis (accumulation of fats in the liver), alcoholic hepatitis (inflammation) and cirrhosis (cicatrisation).