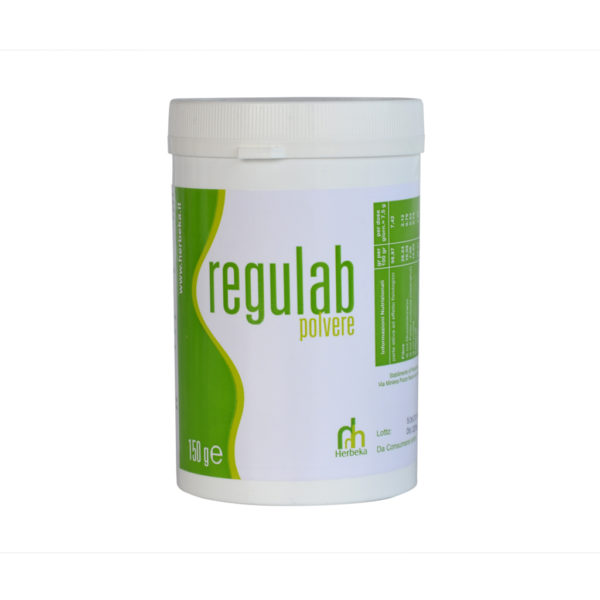 Regulab® powder
It favours regulation of the intestinal tract, normalising the volume and consistency of faeces.
Tipologia:

Food supplement

Formulazione:

150 gr powder
Descrizione prodotto

Regulab is a food supplement suitable in case of low intake of fibres and slowed intestinal transit.
Composition and indications
Inulin stimulates the growth of bifidobacteria (at colon level) that inhibit the growth of pathogenic bacteria.
Glucomannan, Sorbitol, Mannitol and Psyllium boost water absorption, increasing the faecal mass and favouring intestinal transit and elimination.
Regulab taken with plenty of water, favours intestinal transit; taken instead with a small quantity of water, it regulates accelerated intestinal transit.
Method of use
Slowed transit: dissolve in a glass full of water, juice or other liquid, 1 measure 2-3 times a day. Accelerated transit: dissolve in a small quantity of water, juice or other liquid, 1 measure 2-3 times a day.
Warnings
The product is not suitable for people who are intolerant to any of the ingredients. Keep away from the reach of children under 3 years of age. Food supplements do not substitute a mixed diet.
Storage method
Store in a cool and dry place, away from heat sources.
---
Constipation
It is a condition in which the subject is experiencing difficult or less bowel movements. Constipation may be caused by lack of fibres intake in the diet. Fibres instead retain water increasing the volume of the faecal mass and accelerating the transit.
Symptoms: abdominal pain, strain during elimination, nausea and alteration of appetite.
Curiosity


Did you know that the daily intake of fibres should be approx. 25-35g and constipation can be preventing by intaking fibres.