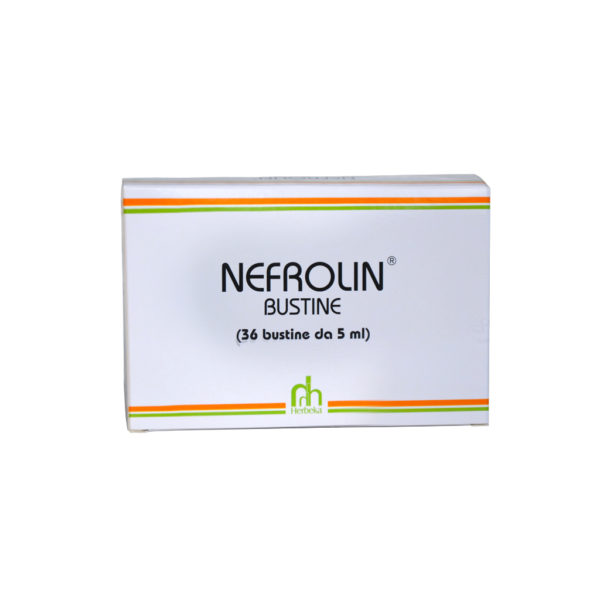 Nefrolin® packets
Prevention of kidney stones and inflammations of the urinary tracts
Tipologia:

Food supplement

Formulazione:

36 packets
Descrizione prodotto

Nefrolin is a food supplement useful to teat lithiasis and inflammations of urinary tract.
Composition and indications
Ferns (Phyllanthus and Ceterach) boast antilithiatic action and are useful mainly during the prevention phase.
Cowberry, Cranberry and Uva Ursi boast anti-inflammatory properties, in particular Cranberry avoids the adhesion of bacteria to the walls of the urinary tract and Cowberry acts on the bacterial fimbriae.
Juniper prevents infections, Orthosiphon and Fumaria boast instead diuretic and purifying properties.
Method of use
3 packets a day diluted in a glass of water
Warnings
The product is not suitable for people who are intolerant to any of the ingredients. Keep away from the reach of children under 3 years of age. Food supplements do not substitute a mixed diet.
Storage method
Store in a cool and dry place, away from heat sources.
---
Kidney stones
They develop when scarcely soluble substances crystallize in the urine and the crystals are aggregated to form particles that are sufficiently large to deposit.
Ca and P oxalate stones represent 75-85 % of all lithiases. When growing, calculi can be asymptomatic, but once inside the ureter, they block the uretero-pelvic junction causing obstruction and pain.
Symptoms: sensation of burn when urinating, frequent urination, increased night urination, renal pain.
Curiosity


Did you know that a diet rich of fluids and fibres, sugar-free with scarce fats and animal proteins could prevent inflammations to the urinary tract.