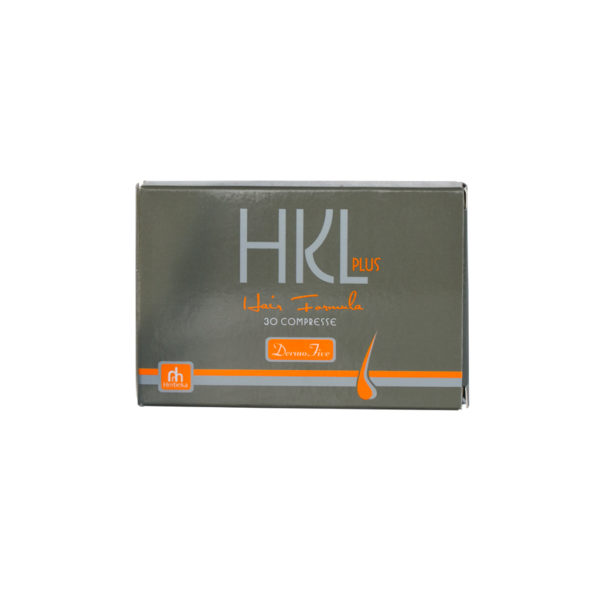 HKL® plus
Indicated for skin trophism and related conditions
Tipologia:

Food supplement

Formulazione:

30 tablets
Descrizione prodotto

HKL plus is a food supplement useful to fight alopecia.
Composition and indications
Serenoa repens combined to Urtica fights androgenic alopecia (hair loss linked to endocrine disorders). Their active principles (triglycerides, phytosterols, sitosterol derivatives, flanovoids) confer in fact anti-androgenic properties.
Ginkgo Biloba boasts a vascular-protective action, it stimulates micro-circulation, with benefits to hair follicles, reactivating hair re-growth processes.
Zinc protects cells from oxidative stress and it is also necessary to metabolize selenium and vitamin E, known anti-oxidants.
Copper contributes to build disulphide bridges, hair basic structures.
Cystine (cysteine derivative) and Methionine are important components of the structural proteins of skin and its annexed elements (body hair, head hair, nails, etc.).
Taurine is useful to protect the proper function of the hair root, since it contributes to its nourishment by accumulating in the bulb, where the hair is formed.
Millet contains water, proteins, carbohydrates, fats, mineral salts (e.g. potassium, calcium, phosphorous, magnesium, manganese, copper, iron, silicon, sodium, selenium, zinc), vitamins and different amino acids, important for the health of the hair.
Pentanoic Acid (vitamin B5) boasts soothing properties.
Method of use
1 tablet a day
Warnings
The product is not suitable for people who are intolerant to any of the ingredients. Keep away from the reach of children under 3 years of age. Food supplements do not substitute a mixed diet. Not recommended if pregnant or breast-feeding.
Storage method
Store in a cool and dry place, away from heat sources.
---
Alopecia
Loss of hair from the head or body, limited or widespread, that may be accompanied by atrophy or destruction of the hair follicle.
Symptoms: loss of hair
Curiosity

Did you know that there are various types of alopecia, for example toxic alopecia is due to a physical or psychological stress; alopecia areata is due to an attack by the immune system to the hair follicles with sudden loss of hair in spots, and finally cicatricial alopecia consists in hair loss in cicatricial or injured areas.