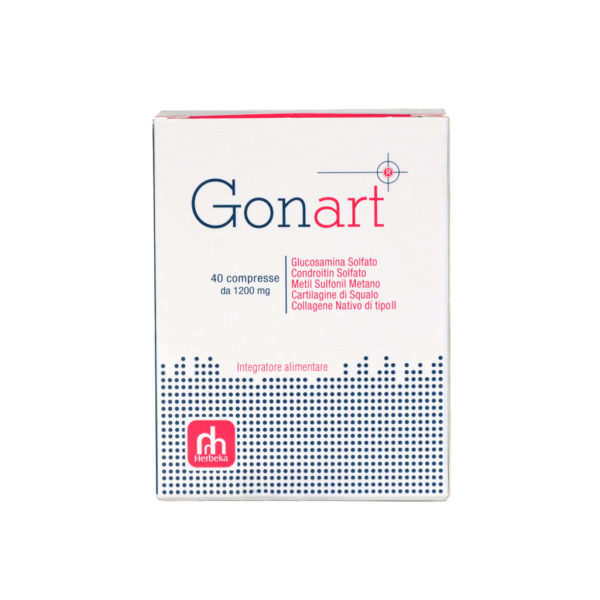 Gonart®
Adjuvant in osteoarticular and muscular pathologies
Tipologia:

Food supplement

Formulazione:

40 tablets
Descrizione prodotto

Gonart is a food supplement that represents a new polycentric approach in handling the chronic issue of articular disorders.
Composition and Indications
Glucosamine sulfate, as precursor of glycosaminoglycans (main components of cartilage) is typically indicated in cartilage regeneration treatments.
Chondroitin sulfate confers resistance to cartilage during compression.
Shark cartilage is a mucopolysaccharide complex, it contains 15% calcium, 9% organic phosphorus and squalamine, suitable to soothe the inflammation.
Native collagen of type II is an important component of cartilage.
Methyl Sulfonyl Methane boasts an essential role in improving elasticity and inflammatory disorders.
Method of use
1-2 tablets a day
Warnings
The product is not suitable for people who are intolerant to any of the ingredients. Keep away from the reach of children under 3 years of age. Food supplements do not substitute a mixed diet. Not recommended if pregnant or breast-feeding. Do not exceed the suggested daily dose.
Storage method
Store in a cool and dry place, away from heat sources.
---
Arthrosis
Chronic illnesses of the articular cartilage and surrounding tissues. The illness potentially appears after alterations of the cells that synthesize the cartilage components such as collagen (protein of the connective tissue) and proteoglycans (substances that favour elasticity).
Symptoms: pain, rigidity and functional deficit.
Curiosity

Did you know that women develop arthrosis more frequently than men between 40 and 70 years old.

Arthrosis is also diffused in the animal kingdom, in fact it affects animals with spine, including fish.