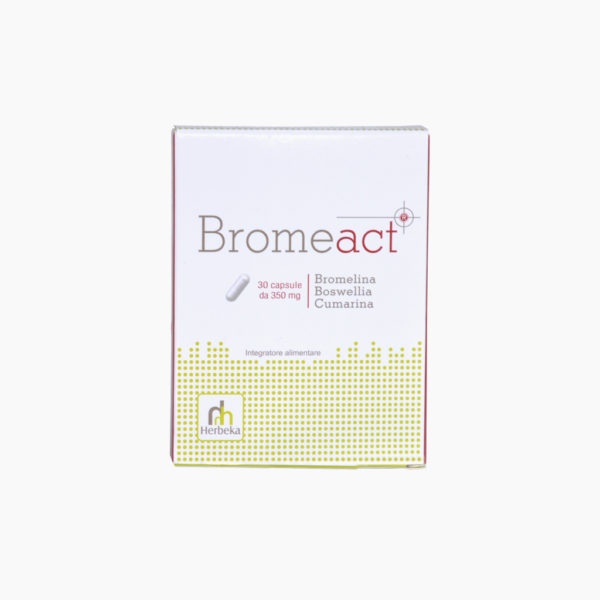 Bromeact®
Anti-inflammatory and anti-edemigenous
Tipologia:

Food supplement

Formulazione:

10 capsules or 30 capsules
Descrizione prodotto

Bromeact is a food supplement that reduces inflammation thanks to the content of its active principles of natural origin with anti-inflammatory and anti-edemigenous properties, maintaining the proper blood flow.
Composition and Indications
Bromelin and Boswellic acids boast anti-inflammatory action and reduce the synthesis of substances with inflammatory and vascorestriction properties.
Coumarin mainly boasts anti-edemigenous properties, improving the contraction ability of vessels and reducing edema and pain.
Method of use
1 capsule a day
Warnings
The product is not suitable for people who are intolerant to any of the ingredients. Keep away from the reach of children under 3 years of age. Food supplements do not substitute a mixed diet. Do not exceed the suggested daily dose. Not recommended if pregnant or breast-feeding.
Storage method
Store in a cool and dry place, away from heat sources.
---
Inflammation or phlogosis
It is the series of modifications that occur in an area of the body affected by a damage of intensity such not to influence the vitality of all the cells pertaining to said area. The damage is caused by: physical agents (traumas, heat), chemical agents (acids, etc.), toxic agents and agents of biological nature (bacteria, viruses, etc.). Response to the damage is given by the cells which survived its action. Inflammation is mainly a local reaction consisting in a dynamic sequence of phenomena that appear with an intense vascular reaction.
Symptoms: heat, swelling and pain of the concerned area.
Curiosity
Did you know that you can detect inflammation based on the onsetting of 5 phenomena: rash, increase of temperature, pain, swelling and reduction of function.